CATALOGUECategories > Lighting & Electrical Components > Wireless LED Lighting (3v) > LED Power Sockets >
USB power for LED Lights. 3 socket extension (60cm). Use with EL353 & EL231


EL340

Description:
Comes with a Peel and stick backing
Other items needed: EL231 (Plugs) and EL353 (Base Plate)
INSTRUCTIONS:
• Fit an EL231 Plug to an EL353 SBLED Base.
• Remove the battery and cover fro your SBLED light.
Screw the EL353 (Base Plate) in its place.
• Plug the base into the USB Power strip socket.
• PLEASE NTE: LED lights will only work when plugged in one way round. If it does not come on, please try the EL231 plug the opposite way.
PRICE: £5.15
Due back in stock:
26 February 2021
Click Here to Pre Order Now




CHECKOUT

PRICE: £5.15

Currency Conversions
(shown as a guide only)


Finished shoppping? Go to checkout page.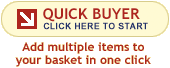 .: More LED Power Sockets :.