CATALOGUECategories > 24th Scale > 24th Scale Diy >
24th Scale Victorian 10 pane rounded top window


V42

Description:
has a removable front glazing bar insert and a removable rear insert to allow glazing. It measures 2 5/8" high by 1 5/8" wide (67mm by 40mm). It fits into an opening 2 9/16" high by 1 1/2" wide (64mm by 38mm).
PRICE: £2.24


Height 64mm : Width 38mm :


ADD TO BASKET : CHECKOUT

PRICE: £2.24

Currency Conversions
(shown as a guide only)


Click here to add this product to your shopping basket.


Finished shoppping? Go to checkout page.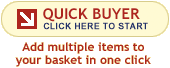 .: More 24th Scale Diy :.