CATALOGUECategories > Dining Room > Dining Room Furniture >
Room Divider Display Cabinet Walnut


R0174WN

Description:
Room Divider or Display Cabinet with panelled doors opening to the front and to the back.
The cabinet measures 7 1/4 inches high x 2 7/8 inches wide 1 5/8 inches deep.
PRICE: £56.69


Height 180mm : Width 75mm : Depth 45mm


ADD TO BASKET : CHECKOUT

PRICE: £56.69

Currency Conversions
(shown as a guide only)


Click here to add this product to your shopping basket.


Finished shoppping? Go to checkout page.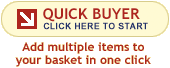 .: More Dining Room Furniture :.