CATALOGUECategories > Bedroom > Bedroom Furniture >
Dressing Table Mirror Goes With R0321


R0322

Description:
This mirror has been designed to stand on top of the cabinet R0321 to form a dressing table.
The curved top and bottom mouldings of the frame match the mouldings on the cabinet.
PRICE: £30.01


Height 108mm : Width 92mm : Depth 10mm


ADD TO BASKET : CHECKOUT

PRICE: £30.01

Currency Conversions
(shown as a guide only)


Click here to add this product to your shopping basket.


Finished shoppping? Go to checkout page.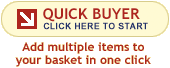 .: More Bedroom Furniture :.